Mobility
From ResiliNetsWiki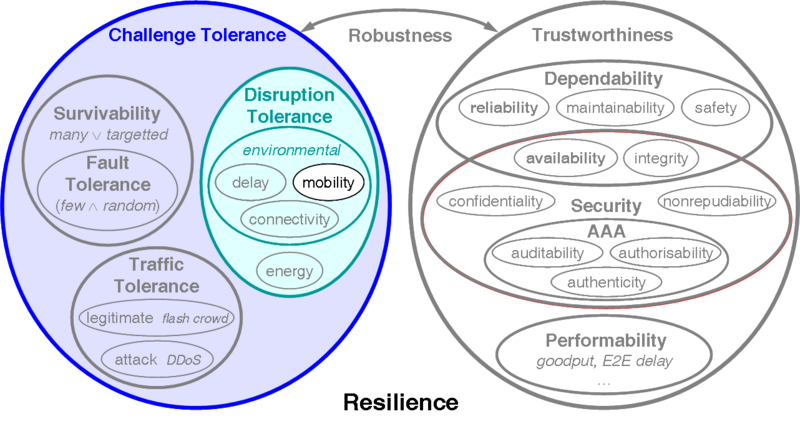 Mobility Models
Tracy Camp, Jeff Boleng, Vanessa Davies,
"A Survey of Mobility Models for Ad Hoc Network Research",
Wireless Communications and Mobile Computing (WCMC): Special issue on Mobile Ad Hoc Networking: Research, Trends and Applications, vol.2, #5, September 2002, pp. 483-502
ResiliNets Keywords: Mobility models
Keywords: ad hoc networks; mobility models; entity mobility models; group mobility models
Abstract: "In the performance evaluation of a protocol for an ad hoc network, the protocol should be tested under realistic conditions including, but not limited to, a sensible transmission range, limited buffer space for the storage of messages, representative data traffic models, and realistic movements of the mobile users (i.e., a mobility model). This paper is a survey of mobility models that are used in the simulations of ad hoc networks. We describe several mobility models that represent mobile nodes whose movements are independent of each other (i.e., entity mobility models) and several mobility models that represent mobile nodes whose movements are dependent on each other (i.e., group mobility models). The goal of this paper is to present a number of mobility models in order to offer researchers more informed choices when they are deciding upon a mobility model to use in their performance evaluations. Lastly, we present simulation results that illustrate the importance of choosing a mobility model in the simulation of an ad hoc network protocol. Specifically, we illustrate how the performance results of an ad hoc network protocol drastically change as a result of changing the mobility model simulated."
[[Chen-Lee-Chang 2006] (doi).]
Jiann-Liang Chen, Yu-Feng Lee, Yao-Chung Chang,
Mobile IPv6 network: implementation and application",
"International Journal of Network Management", vol.16, Issue #1, January 2006, pp. 29-43
ResiliNets Keywords: Mobility models, manet models
Keywords: mobility; addressing; IPv6
Abstract: "Recently, the world has become increasingly mobile, and people have started communicating by wireless networking. Mobile IPv6 enables mobile users to communicate with each other while moving. In this study, a mobile IPv6 network was implemented by the IEEE 802. 11 specification, and its performance was analyzed using TCP and UDP applications. The experimental results indicate that throughput stabilized for UDP applications after about 6-14 seconds. However, TCP applications were found to stabilize throughput in 10-20 seconds. The evaluation results reveal that TCP applications perform less well in mobile IPv6 networking than UDP applications."
[[Thorstensen-Syversen-Bjornvold-Walseth 2004] (doi) .]
Bjørn Thorstensen, Tore Syversen, Trond-Are Bjørnvold, Tron Walseth,
Electronic shepherd - a low-cost, low-bandwidth, wireless network system",
"International Conference On Mobile Systems, Applications And Services:Proceedings of the 2nd international conference on Mobile systems, applications, and services ", Boston, MA, USA
SESSION: Wide-area monitoring of mobile objects 2004, pp. 245-255
ISBN:1-58113-793-1
ResiliNets Keywords: mobility models, electronic shepherd
Keywords: mobility models, electronic shepherd, GPRS
Abstract: "This paper reports a new novel low-cost, wireless communication network system, called the "Electronic Shepherd" (ES). The system is innovative in the way that it supports flock behavior, meaning that a flock leader monitors the state of the other elements in the flock using low-cost radio communication equipment. The paper addresses both details of the terminal devices and communication protocols, as well as testing of the system in a real environment. The ES system was originally made to address special needs for sheep and reindeer farmers who were seeking a system to keep track of their animals during the grazing season. The system, including GPS receivers, UHF radio communication transceivers and GPRS modems, contributes a new approach for low-cost networking and service implementation, not only for the purpose of animal tracking, but also for other applications where objects are to be monitored at a low cost. "
Jungkeun Yoon, Mingyan Liu, and Brian Noble
"Random Waypoint Considered Harmful",
Proceedings of IEEE INFOCOM 2003, San Francisco, April 2003, vol.2 pp. 1312–1321
ResiliNets Keywords: Mobility models
Keywords: random waypoint model, mobility, ad hoc routing
Abstract: "This study examines the random waypoint model widely used in the simulation studies of mobile ad hoc networks. Our findings show that this model fails to provide a steady state in that the average nodal speed consistently decreases over time, and therefore should not be directly used for simulation. We show how unreliable results can be obtained by using this model. In particular, certain ad hoc routing metrics can drop by as much as 40% over the course of a 900-second simulation using the random waypoint model. We give both an intuitive and a formal explanation for this phenomenon. We also propose a simple fix of the problem and discuss a few alternatives. Our modified random waypoint model is able to reach a steady state and simulation results are presented."
Mobility Security
Yongguang Zhang, Wenke Lee, Yi-An Huang,
"Intrusion detection techniques for mobile wireless networks",
"Wireless Networks", volume 9, issue 5, September 2003, pp. 245-255
ISSN:1022-0038
ResiliNets Keywords: security, mobility, intrusion detection, IDS in mobility
Keywords: security, mobility, intrusion detection, IDS in mobility
Abstract: "The rapid proliferation of wireless networks and mobile computing applications has changed the landscape of network security. The traditional way of protecting networks with firewalls and encryption software is no longer sufficient and effective. We need to search for new architecture and mechanisms to protect the wireless networks and mobile computing application. In this paper, we examine the vulnerabilities of wireless networks and argue that we must include intrusion detection in the security architecture for mobile computing environment. We have developed such an architecture and evaluated a key mechanism in this architecture, anomaly detection for mobile ad-hoc network, through simulation experiments. "
Mobility Performance
[[Elaarag 2002] (doi).]
Hala Elaarag,
"Improving TCP performance over mobile networks",
"ACM Computing Surveys (CSUR)", vol.34, Issue #3, September 2002, pp. 357-374
ResiliNets Keywords: mobility performance,
Keywords: mobility performance, mobility definition
Abstract: "Transmission Control Protocol (TCP) is the most commonly used transport protocol on the Internet. All indications assure that mobile computers and their wireless communication links will be an integral part of the future internetworks. In this paper, we present how regular TCP is well tuned to react to packet loss in wired networks. We then define mobility and the problems associated with it. We discuss why regular TCP is not suitable for mobile hosts and their wireless links by providing simulation results that demonstrate the effect of the high bit error rates of the wireless link on TCP performance. We discuss and illustrate the problems caused by the mobility of hosts using a graph tracing packets between fixed and mobile hosts. We then present a survey of the research done to improve the performance of TCP over mobile wireless networks. We classify the proposed solutions into three categories: link layer, end-to-end and split. We discuss the intuition behind each solution and present example protocols of each category. We discuss the protocols functionality, their strengths and weaknesses. We also provide a comparison of the different approaches in the same category and on the category level. We conclude this survey with a recommendation of the features that need to be satisfied in a standard mobile TCP protocol. "
Mobility Databases
Leslie D. Fife, Le Gruenwald,
"Research issues for data communication in mobile ad-hoc network database systems",
"ACM SIGMOD Record", vol.32, Issue #2, June 2003, pp. 42-47
ResiliNets Keywords: mobile databases, manet databases
Keywords: challenges mobile databases
Abstract: "Mobile Ad-hoc Networks (MANET) is an emerging area of research. Most current work is centered on routing issues. This paper discusses the issues associated with data communication with MANET database systems. While data push and data pull methods have been previously addressed in mobile networks, the proposed methods do not handle the unique requirements associated with MANET. Unlike traditional mobile networks, all nodes within the MANET are mobile and battery powered. Existing wireless algorithms and protocols are insufficient primarily because they do not consider the mobility and power requirements of both clients and servers. This paper will present some of the critical tasks facing this research. "
Mobility Management
Pagtzis, T., Williams, C., Perkins, C., Kirstein, P.,
"Requirements for localised IP mobility management",
"Wireless Communications and Networking, 2003. WCNC 2003. 2003 IEEE", vol.3, 16-20 March 2003, pp. 1979-1986
ISSN: 1525-3511
ResiliNets Keywords: mobile networks, mobility management
Keywords: management, mobility
Abstract: "Standard IP mobility management (IP-MM) commonly known as Mobile IP, presents a set of technical challenges in performance and scalability, as the mobile host (MN) varies the handoff rate, due to its mobility pattern, between successive wireless points of attachment; these manifest themselves primarily as increased signaling between the MN and its peers. In addition, they encompass sources of latency external to the mobility protocol; a significant component of this latency is induced by signaling round trip time between the communicating entities while in transit. Recently, Mobile IP has been extended by certain micro-mobility protocol mechanisms, aiming to alleviate the above performance limitations; they are identified as hierarchical/regional or more generically localised IP mobility management. This paper presents an investigation on requirements for IP localised mobility management (IP-LMM). Based on generic principles derived from the effect of localising mobility control signaling it explores the requirement space essential for robust micro-mobility protocol extensions to base IP mobility models. "
Mobility Terminology
T. Ernst, H. Y. Lach,
"Network Mobility Support Terminology",
Request for Comments (RFC): 4885, Category: Informational July 2007


ResiliNets Keywords: mobility, terminology, define, definitions
Keywords: mobility, terminology, define, definitions
Abstract: "This document defines a terminology for discussing network mobility (NEMO) issues and solution requirements. "